Click here to get prices, buy forecasts and donate to WeatherAction Research
AUG 9
Prince Charles talks nonsense on Climate
(but he is good on small farms)
http://www.express.co.uk/news/royal/597039/Prince-Charles-Prince-George-Princess-Charlotte-eco-warrior
Speaking on a recent trip to Romania, the heir to the throne warned that global warming could have serious implications on food production, and leave humankind "totally vulnerable".
Piers Corbyn astrophysicist of WeatherAction who beat the Met Office and all others in Long Range forecasting for
the Royal wedding* of William and Kate
and
for Her Majesty the Queen's Jubilee celebrations says:
(
*
http://www.weatheraction.com/docs/WANews11No8.pdf
)
"The Prince's statement is deluded scare-mongering nonsense which points the world in the wrong direction. It flies in the face of facts and physics. The prince made some good points about defence of small farms but on Climate Change he is seriously out-to-lunch. The scientific facts are:-
1. The world is now cooling not warming while CO2 is rising; so CO2 is not causing warming.
(see
www.WeatherAction.com
Home page LHS)
2. Extreme weather events, such as in the last 8 years, which have caused trouble to agriculture are caused by wild behavior of the Jet Stream. This is basic meteorological fact accepted by all sides in the Climate debate.
3. The wild jet stream behavior is in no way explained by increases in CO2. This is a fact acknowledged by the CO2 warmists who report that CO2 increases do not in their models give rise to the wild Jet Stream behavior.
4. The behavior of the Jet Stream - and the present wild jet stream Age we are in, which also gives Mini-Ice-Age circulation in winter - is driven entirely by changing solar activity and its lunar modulation, and its changes are predicted in detail by WeatherAction's Solar-Lunar Action Technique.
5.
If
the Prince, who might be king when my brother might be Prime minister
, wants to promote science for the advancement of agriculture he should cease repeating the tax-grabbing fiction of the CO2 warmist religion and instead promote and apply our WeatherAction long range forecasts - which already save huge sums for agriculture in UK, Ireland, USA and Europe and if applied world-wide with his backing can improve food production to the tune of $billions.
27 July
Piers Condemns nonsense in Express
http://www.express.co.uk/news/politics/593809/Labour-leader-race-climatechange-denier-Piers-brother-Jeremy-Corbyn
Piers Corbyn said (27 July):-
"Firstly the Express claim
'Both Piers and
Jeremy
Corbyn
were contacted by Express.co.uk – neither of whom wished to comment'
is a LIE. I was not contacted neither was Jeremy.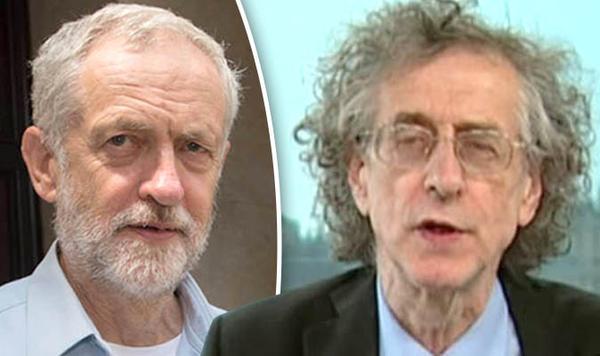 "The recent article in the Express is ridiculous and misleading beyond belief. They recycle nonsense from the Sun who gave a grossly
inaccurate
and misleading report of phone calls they made to me where they put propositions which I denied - yet absurdly described their ready-formed beliefs as revelations to them from me! They were nothing of the sort. No self-respecting journalist should rely on this mis-reportage in the Sun. The article was inaccurate.
It is bizarre that the Express who have frequently reported and praised our WeatherAction.com forecasts should decide to quote one in 2008 which went wrong (and note we warn a % will go wrong) when we are better than all others and as if that was a reason for not backing Jeremy!
As I made clear on LBC radio this morning I back Jeremy 100%.
"On matters of CO2 / ClimateChange, where I have well-known views accepted internationally, or indeed anything else where we might not have identical views
the important thing about Jeremy is that he stands for proper debate and accountability in politics
. This can only be good for any issue, Climate being just one, where scientific evidence is required.
Parliament reached a view in the Climate Change Act 2008 but evidence especially
involving
the wild
behavior
of the Jet Stream over the last 4 years which we warned of shows the scientific assumptions behind the Climate-Change Act are incorrect. Obviously therefore there will have to be more discussion as with any evidence on any matters of science, health or economics. Jeremy is for democratic discussion so he should be backed by all who care about getting our future right; whereas the Tory Lites he is standing against are stuck in the self-deluding evidence-free Westminster bubble - largely divorced from the realities of most of the general public."
"To summarize for all media:-
Media rages in The Sun, Express and Telegraph and others directed against Jeremy and somehow involving me (or others) in
irrelevant
issues show they are desperate and have nothing to say in terms of the real issues. Anyone who comes across this baseless nonsense should bear in mind:-
1. The Sun article was seriously inaccurate and not an interview but their own already formed false views which I rebutted when they phoned me but they
ignored
that. It and articles which quote it should be treated with disdain.
2. What I think about anything from matters of science to taste in food are a diversion from real issues.
3. What I and many know about Climate science or indeed ANY scientific or evidence-based policy issue as opposed to the evidence-free opinion poll spin and Party whipping politics of Westminster are nothing to do with Jeremy. Neither we who did not set out to comment nor any who pop up such as Tony Blair seeking to comment are candidates in this election.
Jeremy is the candidate and he stands for democratic proper debate on all issues including some we care about - that is why I urge people who care to back him"
26 July
pdf click on
26 July - Late July Cold blast Br+Ir Confirmed - WANews15No21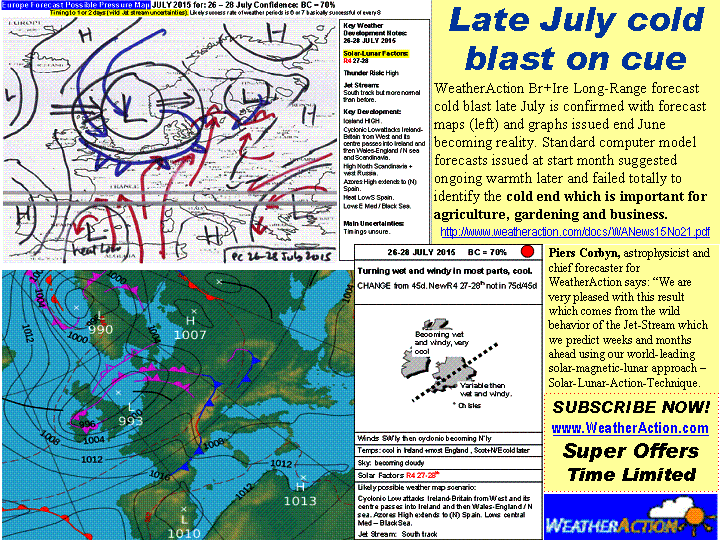 FOR LATEST NEWS AND READER COMMENTS CLICK BLOG LINK BELOW