Welcome to WeatherAction!
- world leaders in Long Range Weather & Climate Forecasting
Piers Corbyn, astrophysicist, Managing Director and founder of WeatherAction LongRange forecasters presenting at #ElectricUniverse Conference, Albequerque New Mexico USA, March 2014
LATEST WEATHER NEWS, To buy Forecasts, Top Weather + Comment on Climate and politics - Go to
RHS Home
Page

=>
Mission Statement and greetings From Piers Corbyn and
latest Updating solar-wind activity data
BELOW
WeatherAction Mission Statement
1. Long Range Forecasting.
WeatherAction will develop and extend Piers Corbyn's revolutionary world-leading Solar based method*
of Long Range forecasting to include all countries of the world months and years ahead particularly for

extreme and dangerous events

. The background physics principles behind the method
are available in presentations** and will be published in full in due course.
*Solar-Lunar-Action-Technique
WeatherAction supports
True-Green-Policies
to defend biodiversity and wild-life and reduce chemical and particulate pollution and points out that

CO2 is not a pollutant but the Gas-Of-Life (plant food).
3. Evidence based science
WeatherAction defends evidence-based science and policy making as the ONLY science. WeatherAction completely supports campaigns for

GeoEthical accountability and CLEXIT - Exit from UN Climate Change Deals

and against data fraud and political manipulation of data and so-called scientific claims now dominating climate and environmental sciences. Evidence shows that man-made climate change does not exist and the arguments for it are not based on science but on data fraud and a conspiracy theory of nature. (see "Why the CO2 'theory' fails ", below)
Welcome to WeatherAction!
HELLO! On our site you can keep up with the latest news, videos, comments and reports of weather and related solar activity and give your own observations and comments via the Latest Comment blog (Right) and read WeatherAction news-pdfs in the
'
Latest
' tab.
Our twitter feed -

@Piers_Corbyn

and
facebook page
also carry leading weather and solar activity forecast reports and news.
We sell web-accessible long-range monthly forecasts for Britain & Ireland, Europe, USA and special forecasts of 'Red Weather periods' and related increases in Thunder/tornado and EarthQuake risk (called 'RTQ' / World Extreme Events forecasts). These are available monthly with normally 8 weather sub-periods per month via the web - up to 30 days ahead for B+I, Eu & USA (to be extended). For B+I look-ahead range on line is extended now to 45d, 75d, 100d and 120d (4months). For more details and to subscribe click here

.
WeatherAction forecasts, which have independently proven peer-reviewed significant skill -
unlike all others in the field (see

forecast accuracy

)
- are based on our revolutionary Solar-Lunar-Action-Technique (SLAT) which is increasing in scope and skill as our researches advance. Useful presentations on SLAT and WeatherAction forecasts are in the
- See
VIDEO
of Piers Corbyn presentation to 'The Greenest Event', Johannesburg South Africa June 5th 2012 and more recent Video Links (Electric Universe conference USA March 2014) listed below / on right section of this homepage.
-
Presentation
pdf submission to the UK Parliamentary enquiry into the supercold and snowy Dec 2010 - the coldest December for 100 years - which WeatherAction predicted ahead of all others -
WeatherAction Long-Range forecasts are world leaders
They
give possible likely weather scenarios (+/-1d) in typically 8 time periods per month for Britain+Ireland, Europe, USA regions.
They are
NOT
substitutes for short range detail
but provide a likely scenario for LongRange decisions and choices

and are normally more accurate and applicable than standard meteorology on all time scales from months ahead to 5days ahead. WeatherAction are the only LongRange forecasts with proven peer-review published significant skill.
In addition to LongRange detail typically within 1 or 2 days resolution

WeatherAction Solar factors - R5, R4, R3...

( in all forecasts) give advice which point to impro
verments of short range model forecasts.
Comments
and news in forecasts and here and in blogs linked below deal with both LongRange Forecasts and medium-short Weather and geophysical effects - eg aurora - of solar factors in Br+Ir, Europe, USA and across the world.
Follow

@Piers_Corbyn

on twitter for very latest news and comment.
Note Piers' tweets/retweets of standard model output at times may not imply agreement but is more information since models change so much in this Wild-Jet-Stream / Mini-Ice-Age era.
ALL PAST FORECASTS are available

in the web access boxes for current forecasts and in the Forecast archive (Via Forecasts tab) as it updates.
Forecasts are normally for each MONTH and in (up to) 8 sub periods Br+Ir, Europe inc Scandanavia and USA.
In forecast access & notes BI, B+I, BrIr, Br+Ir = Britain+Ireland; Eu = Europe inc Scand.
30d forecast means current/next month up to ~30d ahead and is issued at ~end of previous month.
45d forecast means ~15d to 45d ahead and is issued mid of previous month; etc for 75d.
Forecasts issued can include re-issue of copies of previous without update and appropriately labelled [even if no changes have been (yet) made] - so subscribers know they have not missed a forecast (update). BI 100d, 90d, 75d, 45d and 30d can be the same but there normally will be extra detail and/or (sometimes) changes at any stage or extra stages espec for 45d & 30d
issues.
The basics of any forecast normally stay unchanged from ~6m ahead to 30d fullest detail in ~85% of cases.
WeatherAction is involved in the Global Warming/Climate Change debate
where we point out that the world is now cooling not warming and there is no observational evidence in the thousands and millions of years of data that changes in CO2 have any observable effect on weather or climate in the real world.
There are no scientists in the world who can produce such observational data and we challenge anyone reading this to send us such observational evidence from the real world or find someone who can and get them to produce it.

There is only effect the other way, namely that ocean temperatures control average CO2 levels due to basic laws of physics about the soluability of CO2 gas in (sea) water. Boris Johnson, the (then) Mayor of London has expressed interest in what we say:
see article
Thank you, Piers Corbyn, MSc (astrophysics), ARCS, FRAS, FRMetS
Director WeatherAction
WHAT IS WeatherAction? -
Business summary:
WeatherAction are world leaders in Long range weather - and climate - forecasting and produce detailed weather forecasts to resolution of a few days months ahead for Britain & Ireland, Europe and USA +South Canada, and climate forecasts up to 20 years ahead.
The forecasts are based on predictable aspects of solar particle and magnetic activity and sun-earth connections and their modulation by lunar effects. The unique method developed by Piers Corbyn - WeatherAction founder, astrophysicist, theoretical physicist and weather & climate physicist & forecaster - is kown as The Solar-Lunar-Action-Technique (SLAT) of Long-Range forecasting.
Independent peer-reviewed measures of WeatherAction forecasts, monitors by insurance loss-adjusters, and scientific weather bets through William Hill show the significant skill of WeatherAction forecasts weeks and months ahead while other ('classical' / Numerical modelling) methods have no-skill (see www.WeatherAction.com Forecasts / accuracy).
Forecasts out to 100days ahead for Britain and Ireland and less (but extending) for Europe and USA are sold at low charges on-line via www.WeatherAction.com . Forecasts further ahead - eg up to 6 or 12 months ahead are available directly from WeatherAction.com . Most regular customers are farmers, commodity and energy traders, water companies, holday operators, event planners ( eg weddings, holidays, festivals), weather-sensitive retail and outdoor-pursuits.
WeatherAction forecasting powers are greatest for extreme events - storms and heatwaves / cold spells. WeatherAction's unique R-periods ('Red' weather periods, topmost R5 and R4), forecasts, now recognised world-wide by scientific forecasters and extreme-event analysts have unique skill in predicting most likely periods of extreme thunder and tornado risk and Tropical Storm formation and Rapid development. The same / related periods are also used for Extreme Earthquake risk trial forecasts.
WeatherAction significant forecast successes with detail where applicable to a few days include:-

- VERY Wet summers Britain & Ireland 2007, 2008, 2009 (when UK MetOffice precicted 'BBQ' summers!);

- West Russian Heatwave and the date of it's ending in August 2010;

- UK coldest (and very snowy) December for 100 years Dec 2010;

- Extreme deadly tornado swarms eg Joplin Missouri USA May 2011;

- Hurricane Irene USA East coast predicted in detail 12 weeks ahead;

- The year without a summer - extreme deluges and hail - Britain & Ireland 2012;

- Very Extreme deluges and hail July 2012 USA and Europe;

- V late Spring BI 2013 (Piers/WA won British Asparagus Assoc competition for market readiness);

- Late Oct Storm ('Piers Corbyn's Storm) S England +NW Euope 28Oct 2013, predicted 6mth ahead;

- Extra-ordinarily cold (displaced polar vortex) Winter/Springs 2014 and 2015 (East) USA+S Canada.
- Formidably skilled forecasts for April and May 2016 in BI, Eu and USA.

NONE of the above were predicted long-range by any other forecasters.
Forecast Subscription access details - ensuring your updates
30d forecasts

:
Access is to 28th of last month subscribed (uploads ~29-31st)
Subs start in the same month for

payment on or before 21st of month. From 22nd the Sub is deemed to apply from the next month and the current month is free.
45d (BI) forecasts

:
Access is to 14th of last month subscribed (Uploads ~15-17th)
- so that next month which loads 15th onwards is excluded. 30d for that month is also loaded.
45d subs start for the following month for payments made till 27th. From 28th subs are deemed to start from the month after that and months prior to that are free.
75d (BI) forecasts

:
Access is to 14th of month before last month subscribed
- so that next 75d month which loads 15th onwards is excluded. 28th, as 45d, is sub start switch date.
100d (BI) forecasts = Season ahead plus 10 days

:
Access is to 21st of 2nd month before last month subscribed. Sub start switch date is 22nd
- so that next 100d month which loads 22nd onwards is excluded. 75d loads on ~15th
AND

45d access is given to 14th of last month subscribed
so 45d, 30d forecasts for the months load.
120d (4months) ahead
access is to 28th of month concerned and updates on 29th onwards.
These have been now discontinued on line and only available by direct subscription.
Why the CO2 'Theory' Fails
1. FACT.
There is no evidence for the CO2 climate driver proposition in
the real world using real data over hundreds of thousands of years.
World temperatures do
not
follow CO2.
The world is not warming

and has not been doing so for 18 years. Even under fraudulent UN-MetO-NOAA manipulated data the world is

not warming. ALL the alarmist predictions of CO2 warmism have failed.

See

http://www.weatheraction.

com

/docs/WANews14No11.pdf

and

links in Article about BBC-MetO charlatan John Hammond's

Science Denialist claims, in WeatherAction blog

http://

bit

.ly/1xKYPrJ

(sec3)

FACT

Changing CO2 has no effect

EVEN the Models used by the Met Office and UN's Climate Committee (the IPCC) show CO2 levels have no effect on the Jet Stream or extremes which come from the Wild Jet stream changes which they fail to predict.

It is meteorological fact that the recent very wild weather extremes and contrasts follow from wild Jet Stream behavior. THAT Wild Jet Stream (Mini-Ice-Age) behavior was and is regularly predicted by Piers Corbyn's Solar-Lunar approach and is nothing to do with CO2. See

http://www.weatheraction.com/docs/WANews14No06.pdf

& Piers' video

http://bit.ly/QS0k34

The claim that these extremes are driven by CO2 / man made Climate Change is a lie for which there is no evidence or scientific paper which demonstrates a link in the real world.
2. FACT.
Even if CO2 had an effect the idea that Man
'
s 4% of total CO2
flux rules the other natural 96% flux in and out of sea/land making it follow
man
'
s activity
is a ridiculous
conspiracy theory of nature
.
It follows War should be declared on termites which emit 10x Man'

s CO2 equivalent. Why has this not happened?
3. FACT.
The reason why the CO2 atmosphere theory can never work is
that the Ocean-atmosphere interface controls the amount of CO2 in
air
–
a warmer ocean (which holds 50x more CO2 than the atmosphere) emits CO2 and vice versa. This is very basic physics*.
Just as when you warm a glass of fizzy drink more CO2 comes off and it absorbs more when it is cold. Putting more CO2 above the glass of fizzy drink does NOT however warm it up!

Ocean temperatures CONTROL atmospheric CO2 levels.

It is an

observed

fact in millions of years of data that Ocean temperature

changes

LEAD

atmospheric CO2 changes.

Irrespective of these facts there are 2 other reasons why CO2 warmist theory must fail: a) the surafce cooling effect of plants b)

Non equilibrium thermodynamics in the atmosphere - ie the assumptions of the

'

theory

'

are nonsense. *Henry's Law.






"2014 (or 2015 or 2016...) World hottest ever"?
built on:- BAD SCIENCE, Data Fraud and a brainwashed public
by:- Carbon Tax grabbing Govts, Big Oil and Wall-St Supra-Nationals
Support
#CLimateTruth!
- Get the FACTS below
re WINTER 2014-2015 Britain & Ireland (and implications for Europe)
05 Jan (later) 12th day of Xmas 2015
The utter disgrace of Official temperature "reports" -

~30% of USA data stations are now FABRICATED Data

Data fraud is at record levels in 2014

To see the record levels of fraud now perpetrated for USA date

(let alone UK and other Met Offices around the world and world bodies)
Go to:-

http://stevengoddard.wordpress.com/2015/01/05/ncdc-breaks-their-own-record-for-data-tampering-in-2014/

and see a flip-flop of adjustments upwards which corresponds to CO2 amounts!! LOL

Piers Corbyn says "This is not an increasing graph. the absurd claims cannot continue. We need a world campaign to clear out the fraud and clean up science".
BBC Science-Deniers Lie again on Climate Change & Extreme weather
On

Sept 10

2014 In keeping with their deluded stance that all weather extremes are CO2 extremes and their
Goebbels-esque approach to hit the public with the biggest climate lies as often as possible Roger Harrabin (BBC Environment Correspondent) gave a predictable double whammy of dishonesty on the extreme weather events in Asia and around the world.
He said on BBC TV News that
As the the world continues to warm the incidence of extreme events such as in recent days will increase.
FACT
The world - using real data - is not warming
- and has not been doing so for 18 years. Even under fraudulent UN-MetO-NOAA manipulated data the world is not warming. See
http://www.weatheraction.com/docs/WANews14No11.pdf
and
links in Article about BBC-MetO charlatan John Hammond's Science Denialist claims, in WeatherAction blog
http://bit.ly/1xKYPrJ
(sec3).
The United Nations Intergovernmental Panel on Climate Change (IPCC) predicted global
warming would impact winters. "Milder winter temperatures will decrease heavy snowstorms,"
IPCC
stated
quite
plainly
in its 2001 Third Assessment Report. IPCC's prediction has two components: (1) global warming will cause milder winters and (2) global warming will cause a decline in heavy snowstorm events. These two predictions are clear and unequivocal.

BOTH HAVE FAILED TOTALLY
FACT
Changing CO2 has no effect
The Models used by the Met Office and UN's Climate Committee (the IPCC) show CO2 levels have no effect on the Jet Stream or extremes which come from the Wild Jet stream changes they fail to predict.
It is standard meteorology that the recent wild weather extremes and contrasts follow from the wild Jet Stream behaviour. THAT Wild Jet Stream (Mini-Ice-Age) behaviout was and is regularly predicted by Piers Corbyn's Solar-Lunar approach and is
nothing to do with CO2.
See
http://www.weatheraction.com/docs/WANews14No06.pdf
& Piers' video
http://bit.ly/QS0k34
The claim that these extremes are driven by CO2 / man made Climate Change is a brazen falsity for which there is no evidence or scientific paper which demonstrates a link in the real world.
Harrabin is a Science denier and we challenge him - along with BBC- MetOffice's John Hammond to justify their case in public debate on their misleading claims which are a disgrace to the BBC, Met Office and world science.
Useful information + Links
( i ) RECENT TOP VIDS + PDFs
by Piers Corbyn - short links
(ii) BigOil backs the CO2-Climate Change Scam all the way
because it ensures high energy prices and massive value for much of their otherwise worthless assetts in less accessable oil and gas fields.
See these BP links as an example
http://www.bp.com/en/global/corporate/sustainability/the-energy-future/climate-change.html
http://www.bp.com/content/dam/bp/pdf/sustainability/issue-reports/CDP_2013_questionnaire_response.pdf
(iii) Other links on data massaging / fraud:
http://www.telegraph.co.uk/earth/environment/10916086/The-scandal-of-fiddled-global-warming-data.html

http://weatheraction.wordpress.com/2014/08/23/australian-met-office-accused-of-manipulating-temperature-records/

http://stevengoddard.wordpress.com/2014/08/22/thermometers-show-that-the-us-has-been-cooling-for-nearly-a-century/
(re
United States Historical Climatology Network
)

WATCH USHCN FRAUD SWITCH BELOW

(For 'Final' read 'Fiddled')
Read artcle(s) for glaring evidence of fraud perpetrated by data 'selection/de-selection', and

'adjustments'/
modifications/'corrections' to make past processed 'data' colder and present warmer than objective honest records.
CURRENT - RECENT Top Solar + Weather data Links
Solarwind impact predictor
Solar System Map:
http://www.hamqsl.com/solar1a.html
Solar Wind properties
REDTRACE
(below)
Magnetic Field Bz negative = strong SolarWind-Earth connection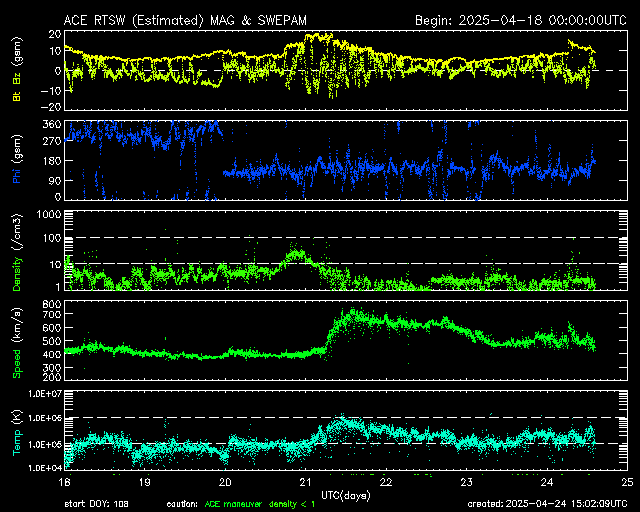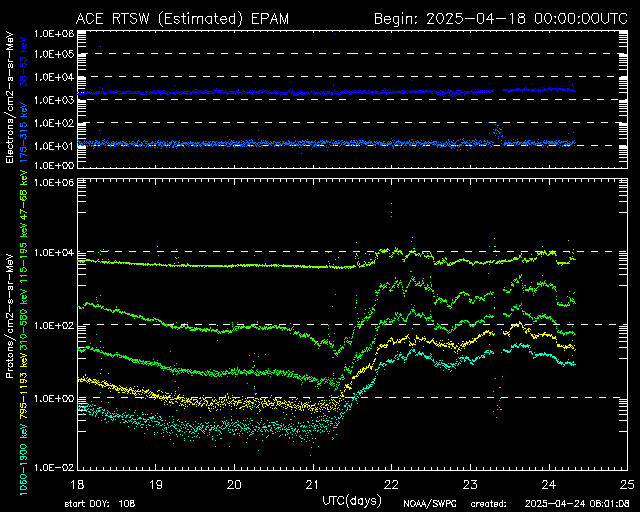 STRATOSPHERIC ZONAL MEAN TEMPERATURE GRAPHS: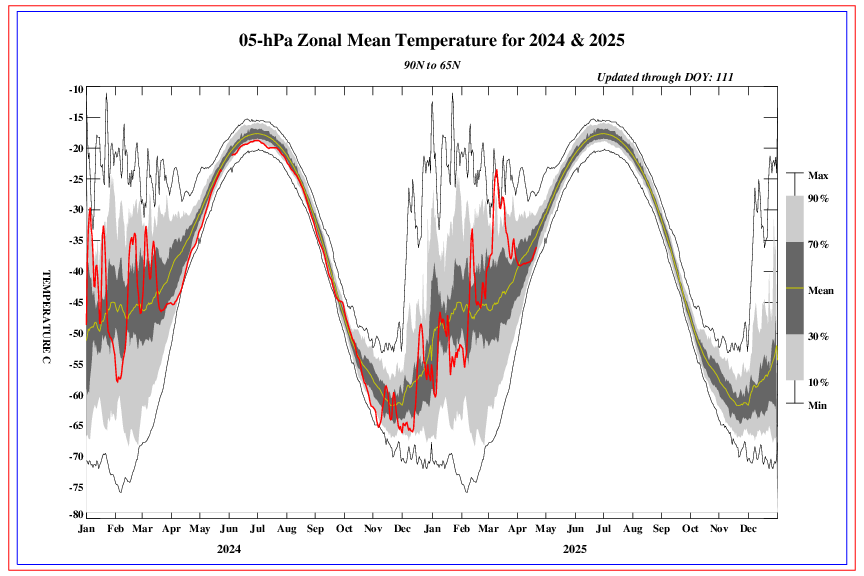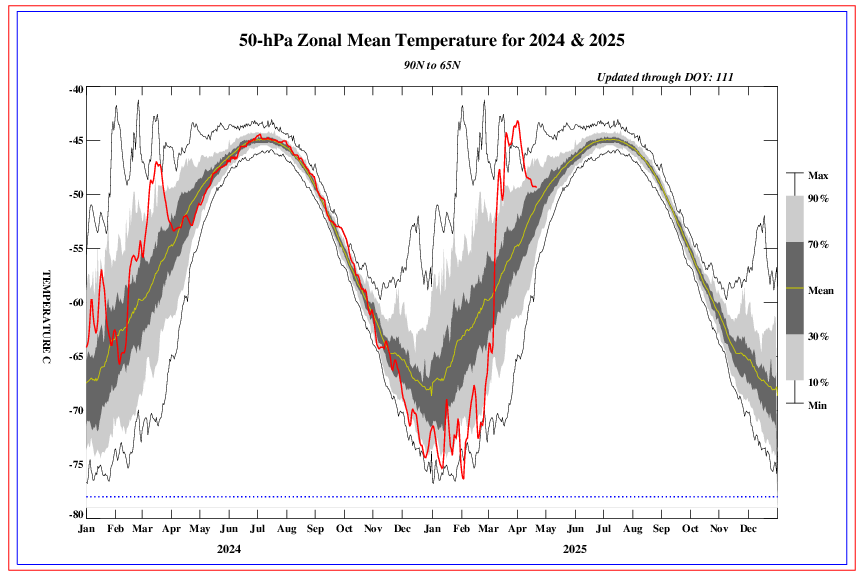 http://www.cpc.ncep.noaa.gov/products/stratosphere/strat_a_f/gif_files/n15_12z_amsu_t02_nh.gif
WeatherAction RED WEATHER WARNINGS
WeatherAction
Red 'Solar-activity Effect'
/
'RedWeather'
periods*
- of weather & solar-geophysical activity warnings are the world-leading predictive parameters in LongRange Sun-Earth relations.
*These are uniquely predicted by WeatherAction and no others using Piers Corbyn's Solar-Lunar-Action-Technique.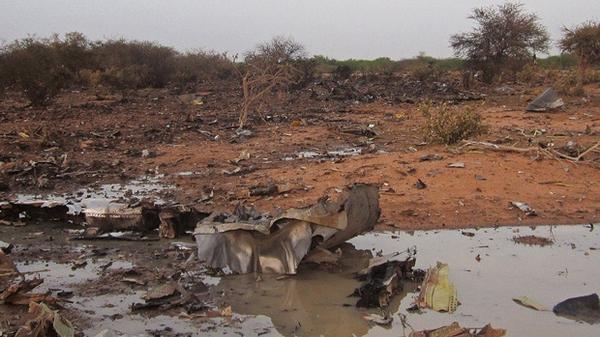 WeatherAction
Top/Major Red (R5/R4)
periods* warning of possible extreme weather events have received acclaim for reliability and timing in the last year.
Red Solar-Weather Periods
- Special interest to Airline pilots and crew and frequent fliers
WeatherAction TopRed, R5,

periods show greatest risk of

dangerous t

hunderstorms

and

turbulence in airflight.

The 2 most serious thunderstorm caused air disaters since 2009 were in WeatherAction

'TopRed' R5 periods

...

There is increased interest in WeatherAction

'RTQ' (RedWeather, Thunder/tornado. Quake(trails) Risk)

forecasts for air travel and activity.

RTQ

forecast are published as a monthly table with a news page which is available alone as a forecast and also R periods included in other forecasts:-
WeatherAction

R5,R4,R3...

values are included in ALL forecasts 30d, 45d, ahead and some indications further ahead along with associated solar / aurora / geomagnetic events.

The next serious Redweather periods are available in all Foreacasts
W
eather
Action
www.WeatherAction.com
Twitter
@Piers_Corbyn
The LongRange Forecasters
Delta House, 175-177 Borough High St. London SE1 1HR
(+44)(0)
2079399946, (+44)(0)7958713320
Welcome to WeatherAction news+views & Forecast Shop!
Latest

videos

from Piers Corbyn on Climate Change science + politics and other matters go
Weather
Action
TV
via
Windows-On-The-

World

TV

Click
http:
//
windowsontheworl
d
.
net
/
**LATEST VID Piers Corbyn on Stephen Hawking
backing ClimateChange Hoax
Links to latest Weather Action
Weather Blogs
and
Wider politics Blog
:-
CLICK HERE to read and give your comments. Scroll below overflow from home page. Use Politics blog for more political matters - Brexit, social cleansing etc
Sections of this WeatherAction RHS Home Page and Links
1. Top Current Latest Weather Comment News & Forecast news.
2. Blogs info +
LINKS Piers Corbyn's
Presentations (not listed in section1)
3. Extra Weather news and links over last few months
4. ClimateChange Conspiracy (of Nature)Theory; Charlatan Monitor, CLEXIT(ClimateAgreement EXIT)
LINK:
1. Latest - 27
April 2017
Also keep informed on
@Piers_Corbyn
, twitter for latest images and news.
(preceeded May 4 in most of UK but not London by Council elections)
-
Stop Tory Election fraud cover-up - Support a fairer society,
Accountability vs Globalization JC4PM!
-
Visit WeatherAction.com politics & all that blog (link above)
Current
Europe & Br+Ir
Very cold blasts and impending major storm
USA
both confirm Piers Corbyn's WeatherAction forecasts 6 weeks ahead and his warnings of developing MiniIceAge / wild Jet Stream conditions.
BREAKING!
5m ahead all now at
NEW TRIAL
£24, $31, Eu28
(& 6/12m@4/6 = 12m 85%OFF).
This new SuperLow trial price will End anyday by/on Friday 28th
With

BI+Eu joint service

12m 85%OFF

And loads

more

TopDeals

- See below
"Don't be conned by Earth-Day (Lenin's Birthday)
'
S
cienceMarch'
- 22 April"
The "ScienceMarch" 22nd April in USA and some other parts of the world is a deceitful globalist operation to attack President Trump for his dismantling of the fraudulent anti-science CO2 global warming Climate-Change hoax apparatus in USA and the UN (Paris Agreement and IPCC). President Putin recently joined President Trump in stating the CO2 ClimateChange story is false and that changes in climate are natural.
The climate fraudsters are losing ground so rather than organize their usual Earth Day 'Save the planet' climate fraud marches which would show an embarrasing drop in support they are using real scientists to try and save themselves.
The climate hoax is a vital ideological prop of the globalist de-industriliazation agenda for reducing wages in the west and enslavment of developing countries for #WallStreet giant Corportions and the world super-elite.
The CO2 Climate Con perpatrators of the biggest fraud in history must be prevneted from hiding behind "science" to cover-up their despicable acts of criminal fraud and the suffering, poverty and starvation arising from their con around the world.
Their self-serving dishonesty has directly led to:- energy price hikes to subsidize bird-killing windfarms, food price hikes to make bio-fuels possible, the destruction of forests of the USA to make wood pellets for deranged switching from coal to wood in UK power stations, murder of communities in Brazil to enable crazy grandiose hydro-electric projects and so on
.
#ClimateChange 'Green policies' are #FakeGreen not #TrueGreen and must be terminated.
Real scientists in any fields who join #ScienceMarch thinking they are defending 'science' and the scientific method are fools doing the bidding of George Soros and the most rapacious corporate plunderers the planet has ever known.
Breaking! Get Weather Wise
Offers notioanlly ~80% OFF - end anytime!
=> WeatherAction OnLine Forecast shop:
Subscriptions on

WeatherAction.com

are through

PayPal

which is an
https:// secure environment
Amazing offers -
67%-85% OFF
- take up is variable and we may go back to higher charges & less subscribers.
The situation is reviewed every day.
If you are thinking and waiting stop waiting and buy! Pass it on! Thanks!
30d BI, Eu, USA

April only £7/$9/Eu8.5

, 6/12m@5/9 (

12m 56%OFF

)

45d inc 30d BI, Eu, USA only £14/$18/Eu17 6/12m@5/8 (

53

%OFF

)

75d BI

12m:

72

%OFF

100d BI

76

%OFF!!

100d

TheLOT

76%OFF!!

New 5m ahead to Aug now BI, USA, Eu detail below

12m 85%OFF!!

BI+Eu together

as joint 5m ahead, 12m sub

85%OFF

- see below*

Sample 30d forecasts

C

lick: BI

http

://bit.ly/2hXjpyz

,

USA

http://bit.ly/2jDiNQR

, Eu+BI Maps

http://bit.ly/2jtkEdp
New 5m ahead service details
That 12m sub would give you forecasts one more month forward every month for 12months = now To Aug, next month to Sept, next to Oct....
5 month (150d) Ahead
- to August NOW - Service; ALL
USA
are loaded.
BI & Eu
are loaded to July and
Aug following.
All updates (30d, 45d...) inclusive - load as produced.
All existing subscription overlaps get forecast credits

- new subs start where old one ends or extra forecasts for overlaps as appropriate.

For new 5 month ahead service

overlaps are credited -

with frac

tions in favour of subscriber:-

1 mth of 150d (5m) ahead = 5 of 30d; 3 of 45d; 1.5 of 75d; 1 of 100d. Rates inc 45d etc as part of TheLOT-all services to 100d.
HURRY
, PASS IT ON - GO TO =>
WeatherAction OnLine Forecast shop:
Subs on

WeatherAction.com

are through

PayPal

which is an
https:// secure environment
B+I JULY 100d/105d

exciting (6 periods) is loaded in BI: 100d, All to 5m (to Aug inc); TheLOT to 100d

Eu JULY 100d forecast

(6 weather periods) is

in Eu: All to 5m; TheLOT to 100d

Eu JUNE 75d forecast

(6 weather periods) is

in Eu: All to 5m, Eu Energy; TheLOT to 100d

B+I JUNE 75d forecast (6 weather periods) is

in BI 75d, 100d, All to 5m; Eu Energy, TheLOT to 100d.

Br+Ir 45d Service

has 75d (90d)

MAY

summary forecast loaded (April 15) as interim to more detailed 45d.

USA 45d Service

has USA

MAY

90d forecast loaded as interim (Apr 15)
Dramatic North-South #WildJetStream swings
- #Meridional flow - confirm Piers Corbyn's WeatherAction general (8 years ahead) Climate forecast and LongRange weather detail (see twitter
@Piers_Corbyn
) through this April.
Latest Weather and solar factors News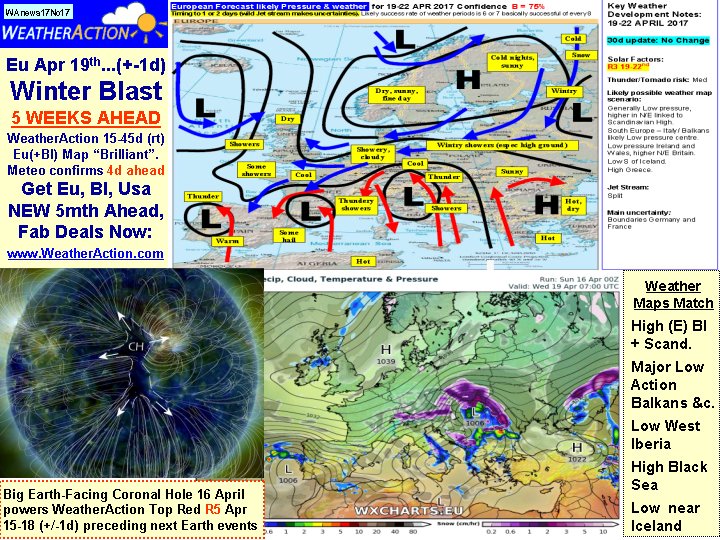 NEW WeatherAction "TopRed" R5 period Apr 15-18+-1d
The start was marked on 15th by an Earth-facing coronal hole - Watch for exciting power-ups of events: wind, hail, Tropical Cyclone formation, geomagnetic activity earthquakes, and volcanoes.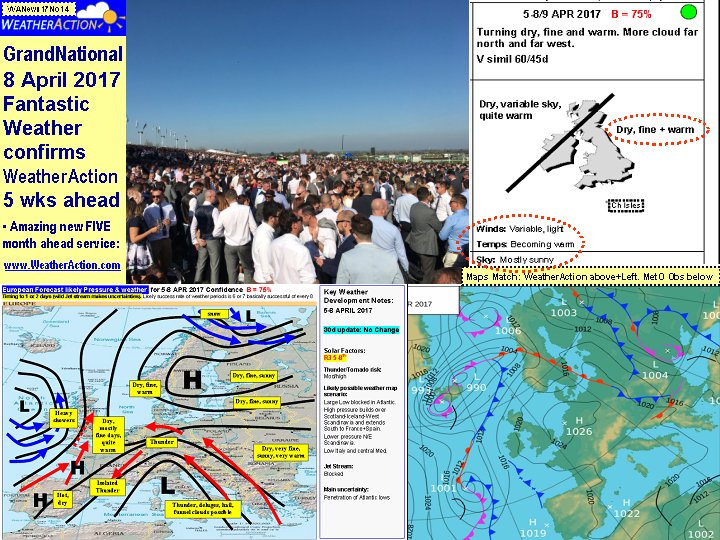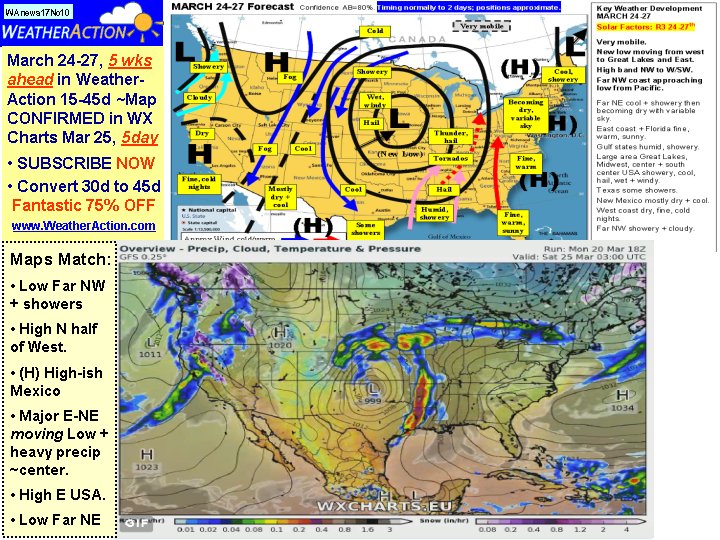 Br+Ir 45d does NOT include EuMaps 45d but Br+Ir 45d access does include EuMaps 30d at 30d update.

Eg March (45d) EuBI map is not in Br+Ir 45d but its 30d update goes in Br+Ir 45d service at start of March.

Br+Ir 30d service does not include EuBI maps.

Eu 30d/45d loads in Eu 30d/45d, Energy/Commod Trades; TheLOT

USA 15-45d, EuBI Maps

15-45d & BI 15-45d ahead Services

includes 30d.

Subscribe to 15-45d directly and get forecast credits for your existing 30d subscription remaing to extend the new service further

OR

CONVERT/UPGRADE to it from 30d via CONVERT buttons -

but

ONLY if you already have a 30d sub.

If you upgrade by more months than you have 30d subs any excess is allocated in this or similar circumstances to more 45d (inc30d) with

any left-over amounts in favour of subscriber.
45d subscriptions

ordered now

begin counting from MAY (issued mid April). +

APRIL access is inc free

.

30d subscriptions

BI, USA, USA from 22nd start counting from May.

Br+Ir All Spring Now

+updates NOW (May + rem April) £14

You will be able to convert existing 30d & 45d USA & Eu services and TheLot 100d service into 150d services with full forecast-months credits for these subs (as USA and Eu 30d subs have been convertable to 45d).

TheLOT(100d)

- all on line up

to 100d

in one;

New Offer only

£39 was £80; 6/12m@4/6,

12m 76

%OFF

Any incidental overlaps of subs are credited to the suscriber in the form of forecast months with fractions in favour of subscriber.
REPORT ON PUBLIC MEETING! -
Piers Corbyn
Annual AstroSoc Presentation at PONLAF*
Frid 31 March (
*Poly North London Astro Forum)
The Solar-magnetic-Earth LongRange weather forecasting revolution,
the death of the CO2 man-made Climate hoax - pillar of globalization ideology
and the accountability revolution in Science and politics
The meeting went brilliantly and included someone who flew from Canda to be there. Full video will be available
Piers Corbyn criticizes Prof Stephen Hawking for backing #ClimateHoax
Piers Corbyn comment on Prof Stephen Hawking reported interview ITV Morning show 20 March with PiersMorgan - for consideration by Prof Hawking and his team:-
"Prof Hawking spoke alarmist delusional nonsense on so-called (ManMade) Climate Change and as a leading world scientist failed in his duty to support evidence-based scientific principles. Science shows CO2 levels are an EFFECT NOT A CAUSE of natural changes in climate.

This is spelt out in the pdf:
http
://
bit
.ly/2iIoMXN
"

The FACT is there is no real-world evidence that CO2 levels drive temperatures but a million years of data shows the connection is the other way, namely that world sea temperautres control CO2 levels which ARE OBSERVED TO FOLLOW sea temperatures by some hundreds of years. The reason is basic Physics. The oceans which hold about 50x the CO2 of the atmosphere can hold a bit more when colder and less when warmer (just like warming a fizzy drink causes CO2 to come off). So (under Henry's Law of gas-liquid solvent equilibrium) CO2 is driven from the sea to the air as temperatures rise - a process which happens with a delay of some hundreds of years due to slow ocean circulation. The rise in CO2 levels now are probably a delayed effect of the Medieval warm period.
"The idea that CO2 is in any way driving temperatures in recent decades is also shown to be absurd by the fact that the natural cycles of temperautue eg 22yrs, 60yrs are NOT present in CO2 which is supposedly, under the CO2 warmist theory, driving temperature changes. CO2 levels are just slowly rising without the fluctuations observed in temperature.
"It is also a FACT that the various extreme weather events in recent years are not evidence of causation by rising CO2 which is happening at the same time but actually evidence AGAINST the CO2 theory. The extremes, including temporary Arctic ice reductions at times are caused by the wild Jet stream (and associated ocean current circulations). These wild North-South variations in the Jet Stream are the opposite of the general poleward shifted Jet Stream of a generally warmed world predicted by the CO2 theory. In fact these wild JetStream patterns were predicted under my WeatherAction solar-activity - solar-wind ideas in 2008 and totally nothing to do with CO2.
"Prof Hawking and your team, please consider these points and if you have actual evidence that CO2 levels are a cause of climate changes rather than an effect then let me and the world know. If you cannot do that then cease being used by the globalization lobby to promote a delusional theory which is a key ideological pillar of de-industrialization of USA and Europe - and instead stand up for science."
"On other points you made you must know it to be untrue that you would be unwelcome in the USA because you have criticisms of President Trump. Millions enter the USA who have different views to him.
"It was also unhelpful of you, as a Labour voter, to sound critical of my brother when despite his forcing the govt to do many u-turns the Tory press denounce him every day beccause they fear the good he will bring to the UK as Prime Minister".
"As a matter of common interest you and I had the same Physics teacher in different schools. Kieth Reynolds a superbly inspirational dedicated teacher first taught you then moved to my school, Adams' Grammar school, Newport Shropshire where I learned a huge amount from him."
- Piers Corbyn;
Physics+theoretical Physics 1st class Imperial College London, MSc Astrophysics Queen Mary College London.
https://royalsociety.org/science-events-and-lectures/

6 Carlton Ho Terr SW1Y 5AG

Happened

:

** Mon 27Feb 6.30 pm Turbulent Times Ahead for Air Travel? ClimateChange;

WeatherAction /ClimateRealists made impactful interventions **

Mon 6 Mar

6pm ClimateChange catastrophe, hoax or lukewarm? Prof Tim Palmer.

Regular WeatherAction monthly meeting

Normally

first Frid every month

12.30pm via WeatherAction HQ Delta House, 175 Borough High St, SE1 1HR Tube borough.

Piers Corbyn

will Speak at The Oxford Union Monday May 15th

Piers Corbyn

willl present at The Alternative View (AV8) weekend May 20-21st at Milton Keynes. Title: Man-Made Global Warming is a hoax, what does Change Climate and the Terminal Crisis of Globalization.

PRIORITIES NOTICE.

It is intended that in the coming year or t

wo

Piers Corbyn will give a large public event ground-breaking presentation

on the Physics behind his revolutionary successful unrivalled forecasting method. Likely a paid-for event, PRIORITY will be to 1. Subscribers to Fullest LongRange Services further ahead than the 100days on line. 2.

OnLine subscribers in order of subscription commitments.

Subscribe now if you want to be sure you can come

.

S

ubscribers will be able to nominate alternates if they cannot come.
Climate Realist scientists challenge Climate Fraud at Feb16 Global-Warming events Imperial College and Institute Of Physics.
Piers Corbyn and others from WeatherAction / Climate Realists and PONLAF (Poly of N London Astro Forum) made important points at The Feb 16th Climate meetings of the Royal Met Soc (RMS) at Imperial College (2pm-5.45pm) and the Institute Of Physics (IoP) 6.30pm.
Piers in both meetings pointed out there was no observational scientific real-world evidence to support the #FakeScience Man-Made Global Warming story, invited speakers to send him evidence and called on them and the RMS & IoP to drop support for the Global warming pyramid of falsity and fraud and return to evidence-based science.
At Imperial (physics LT1 where Piers had spent a lot of time as an undergrad) David Warillow (RMS) tried to dodge the question by asking Piers to produce evidence for his solar ideas. Piers put him in his place by saying whether or not WeatherAction solar-based forecasts work (which have proven peer reviewed significant skill) is nothing to do with the requirement that you produce evidence for the CO2 story (which is #FakeScience while there is no supporting observational evidence). Afterwards a number of groups of students talked to Piers and were clearly concerned that they had not been offered any actual evidence of the CO2 story (other than selective events of no relevence) on their courses and concerned about data manipulation. Piers said he was willing to attend any meetings or debates on the matter and on the #globalization interests behind the CO2 scam.
At the IoP Prof Ellie Highwood responded by saying we have open debate - which wasnt an answer to the evidence challenge but at least was taken as a welcoming of discussion. In response to the question "Should we have a war on termites, which produce 10x more CO2 than Man?" she worryingly appeared to entertain the possibility and said there were anti-meat campaigns because of methane produced by cattle.
Peter Gill asked if the CO2 story could explain anything about climate cycles such as the 60yr Pacific Decedal Oscillation and the Medieval and Roman warm periods. There were no explanations from the speaker. Piers mentioned the 60year cycle is a direct consequence of his solar-lunar theory and after the meeting received strong comments of support for his intervention.
Piers says: "We made an impact at these two events where it was clear the academic/ environmental leadership are very rattled by - and in denial of - the recent insider exposes of data fraud and by President Trump's forthright denunciation of the CO2 hoax. It was great to have discussion with students many of whom can see all is not right and may be coming to realize they have been drawn into courses which if (when) the climate con collapses will lead to no jobs for them. WATCH THIS SPACE FOR NEXT EVENTS"
Feb12th WeatherAction News Release Piers Corbyn says.....
below / pdf Link: http://www.weatheraction.com/docs/WANews17No5.pdf
Piers' 2 latest top videos YouTube http://bit.ly/2lZTGIj - Record hits!
Climate hoax over? Follow on new vid http://bit.ly/2l4fvGx
also http://windowsontheworld.net/video_type/climate-change-hoax/ on w-o-w site
"Globalization in terminal crisis!
'ManMade ClimateChange' - #FakeScience and the fakest of all #FakeNews – a key ideological linchpin of globalization, is now broken.
In the last week Insider (NOAA) exposes* of industrial-scale climate data fraud confirmed what the honest evidence-based science of Climate Realists/'Skeptics' spelt out for years, see Piers Corbyn zippy expose of the Climate Con in a few key points - http://bit.ly/2iIoMXN
- *John J Bates NOAA Insider in Sunday/Daily Mail FEB 5th by David Rose, see below.
"The enormous burden of ManMade Climate Change Fraud policies - which through de-industrialization / industry & jobs transfer impoverish and destroy the pride of workers in USA, UK & EU and enslave the rest of the world are now AGAIN exposed (Sunday Mail Feb 12th**). ClimateChange GlobalWarming fraud and FakeScience benefits ONLY the most powerful Wall Street corporations and the Super rich. There are two questions for the politicians establishment bubble and their fraudulent "Science" & academic advisers and I urge everyone to ask these in any forums they can:-
1. To scientists and academics:
"Now that the #FakeScience of Man-Made Climate Change lies shredded and its fraudulent apparatus is about to be destroyed thanks to President Trump when will you abandon this shameful scam and restore evidence-based science to the forefront of all scientific endeavour? What measures should be taken against those guilty of climate data fraud?
2. To politicians
"Now that the #FakeScience of Man-Made Climate Change lies shredded and its fraudulent apparatus is about to be destroyed thanks to President Trump when will you formally abandon this shameful scam and reverse or repeal all anti-Carbon / 'ClimateChange measures. When will you therefore end the desecration of the countryside and coasts and mass murder of birds by wind farms and REDUCE all electricity bills and energy charges accordingly - by about 1/3. When will you arrest those guilty of climate fraud just as banking fraudsters have been arrested?
"The first academic institution or university to properly jump ship and put evidence-based science back to the fore will be flooded by applications from the brightest school students and reap huge benefits worldwide.
"The first significant political party to properly abandon the Climate scam and cut electricity charges and terminate costly so called green (wind, nuclear power etc) ventures will gain huge support and WIN the next elections. Other political parties will then switch policies but too late.
"As the world moves into post-globalization and against the Global Warming hoax it is important to KEEP TRUE GREEN POLICIES - eg defence of nature and biodiversity and reduce smoke+diesel pollution etc.
We must DESTROY FAKE GREEN POLICIES - eg wind farms, mass-dams in the Amazon and the insane idea that CO2 is a pollutant.
Questions / interviews: Phone Piers Corbyn 07958713320
** David Rose again Sunday Mail 12 Feb -
http://www.dailymail.co.uk/debate/article-4216180/How-trust-global-warming-scientists-asks-David-Rose.html
The 2015 Paris Agreement imposes gigantic burdens and its effects are felt on every household in the country. Emissions pledges made by David Cameron will cost British consumers a staggering £319 billion by 2030 – almost three times the annual budget for the NHS in England.
That is not the end of it. Taxpayers also face an additional hefty contribution to an annual £80 billion in 'climate aid' from advanced countries to the developing world. That is on top of our already gargantuan aid budget. Green levies and taxes already cost the average household more than £150 a year.
Piers Corbyn News release on Whistle-blowers report that NOAA (USA National Ocean and Atmospheric Administration) manipulated "Global warming" data:-
(Feb 6/7th, pic above) "The revelations in Mail on Sunday (Feb 5th) and Daily Mail from
Data Science, Climate and satellites Consultant John J Bates

- an insider -

that NOAA manipulated data to show false warming are the death-knell of the Man-Made Climate Change hoax and has massive immediate implications.
"These latest revelations confirm what we in WeatherAction and many other independent Climate Realist / Skeptic scientists have been saying for years. [For specific evidence eg that USA 'warming' and world 'warming' in recent years are 100% due to 'data adjustment', ie fraud, see twitter

@SteveSGoddard

& LHS of www.WeatherAction.com home page].
"The UN Climate Change Committee, the IPCC (Intergovermental Panel on Climate Change), must now be closed down. President Trump is 100% right to announce intentions to defund this fraudulent operation and to terminate USA support for the delusional globalist de-industrializing corporate plunder of the Paris (2016) accords.
"All Anti-CO2 measures worldwide - such as the UK Climate Change Act 2008 and similar measures in other countries, must now be repealed. All the stupid measures and attacks on jobs and living standards that flow from them - such as Carbon taxes and surcharges, wind-farms, bio-fuels and the massive programme of dam building and consequent environment drowning and indigenous tribal wholesale ethnic-cleansing in Brazil - must be ended.
"There is no scientific basis whatsoever for the claim that mankind's CO2 has ANY effect on climate. The fact is that CO2 levels are an EFFECT of changes in climate (temperature) NOT A CAUSE (see *
http://bit.ly/2iIoMXN *
).
"The CO2 story is a fundamental ideological tool of the globalisation agenda driven by giant Wall-Street super-corporations and Big Oil (eg Qatar who fund AlJazeera, Clinton and ISIS terrorism) - who use the Climate Con to jack-up oil prices. This ideology will be destroyed as the anti-globalization anti-establishment wave and demands for accountability sweep the world.
All political parties must now start honest debate on the Global-Warming delusion and in the case of the UK:-
(i) Undertake to

end the deindustrialization of the UK

which has been driven by the malevolent strictures of the Climate-Change story via for example the EUETS (EU Emmission Trading Schme). These strictures have not in fact reduced CO2 production but simply sent it elsewhere eg to India when the UKsteel operations and livelihoods in NE England were destroyed)
(ii) End the 'Climate Tax' on energy and thereby
reduce all electricity bills by about 1/3 as handouts to so-called 'green' projects such as wind farms (bird killers) are ended."
Information and further comment: Piers Corbyn 07958713320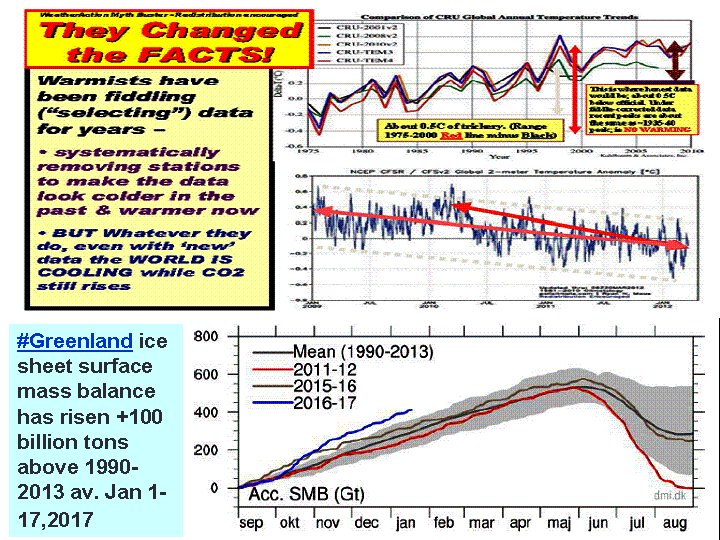 Special (international) Natural Climate Cycle Conference Tue 22 Nov
- John Harvard Library convened by #WeatherAction and #TruthExcites was a fantastic success - further reports soon.
Piers Corbyn's presentation
which included CO2 warmism's violation of Laws of Physics and why Wild jet stream arctic warming events are evidence AGAINST the CO2 story not for it:
http://bit.ly/2ghwfes
Report Note on Climate Change Public Meeting 20 Nov
Debate with Piers Corbyn and Piers Forster
The event Sunday 20th Nov 11am Conway Hall Red Lion Sq, Holborn London was a great packed-out event. After the meeting dozens congratulated Piers Corbyn on a superb presentation. His revelations for some were further developed on 22nd Nov in John Harvard Library which was attended by some present in Conway Hall.
Other links requested will be posted here shortly.
WeatheAction thanks the convenors and Piers Forster for making the event what it was.
Piers was on LBC RadioThurs 10th evening talking about Trump + ClimateChange policy.
First footage of Trail-blazing climate conference -
as Ex-President of France Sarkozy breaks ranks with the rest of establishment + declares himslef a 'climate-skeptic'
Click on Link:- see Piers Corbyn, Viscount Monckton, Nils Axel-Morner,
Ned Nikolov & Karl Zeller,
Nicola Scafetta, Roger Tattersall+Richard Salvador and many more (REPORT ALSO BELOW).
Piers Corbyn comment Sept 19th:
"After University College London failed in its disgraceful attempt to suppress this conference in an utter travesty of the founding principles of University College London the first footage of the astoundingly sucessful conference, re-scheduled to Conway Hall Holborn, are released.
"Significantly around the same time ex-President Sarkozy of France delared himslef Climate skeptical in a major break with the rest of the establishment. He and more and more main-stream scientists are breaking with the sinking ship-of-lies which goes by the name Climate-"Science" and which is a key ideological component of the Carbon-Taxation de-industrialization policies of the EU. The conference itself (further report below)

involved many mainstream scientists and a notably wider range of poltical views

than such gatherings hitherto.
Rejection of the scientific fraud of so-called Global Warming is no longer a preserve of small groups of 'Climate-Realists' and the Republic-Right with a handful from the 'Left' but is becoming an unstoppable movement. Now the UK has entered political conference season all Parties would do well to reflect on reality and fully and honestly review their Energy and Industrial policies and jump the Climate-Con ship before it sinks".
Prof Sir Brian Hoskins has still failed to come up with evidence he was challenged to produce in May (see foot of this page) and Brian Cox has been caught lying on Australian TV on the matter.
We predicted this BI-Eu extreme September heat in general terms 100 days ahead and in detail 5 weeks ago under our Solar-Lunar Forecasting method. It is part of the Wild Jet Stream Age (arising from overall low solar activity) we warned in 2008 would take-over and which in winters gives Mini-Ice-Age events such as the coldest December in Britain+Ireland for 100yrs in 2010, the USA Great Lakes freezing over at times and massive snow events across Europe."
2. Blogs + Presentation Links

Top
Videos,
Comments & presentations by Piers Corbyn
3. Presentations from Sept 2015:-
- See
what
'
s
at
stake
in Eu/Brexit & Climate-Change debates including what happened in UK NE / Teesside (slides 24+25).
The Meeting, reported below, also debunked the

"97% believe in Man-made Global Warming /Climate Change" claim.

The true figure is between 7%
& 0.3% depending on "surveys".
- NB parts of StMichael and StokeNewington used at Southend (Westcliff) & Exeter.
THIS IS AN IMPORTANT PDF which includes:-
- Presentation by Piers Corbyn in
Parliament Committee Room Nov 25th 2015
- TV Links of
Piers
Corbyn on
BBC TV Andrew Neil show
Dec 3, 2015
- subsequently re-discussed as investigations led to the Question:
DID Alan Johnson MP lie on the show
-
Russia
Today
TV
George
Galloway
show
2015
Dec 12th
- Climate Challenge Conference (Alternative to UNIPCC)
PARIS 2015
Dec 1-3rd
3.
Extra Weather News

Links
Must Watch!
Piers Corbyn
Video
destroying lies on TV by
Brian Cox
Climate Conspiracy theorist -
4. Climate Change Conspiracy (of nature) theory - Charlatan+Fraud Watch
(ongoing/Clexit-UN Climate Agreement Exit)
FOR LATEST NEWS & READER COMMENTS CLICK BLOG LINKS TOP & BELOW
Latest news